Benvenuti su Nikonland Questo sito è indipendente, è autofinanziato, non promuove e non raccoglie pubblicità. Non è collegato con Nikon, Nital o le loro sussidiarie
Nikonland non è una rivista periodica e non è quindi sottoposta alla normativa vigente 
0
Sigma 150mm f2.8 Apo Macro OS in-depth review.
150 Macro
review
Macrophotography
Sigma lenses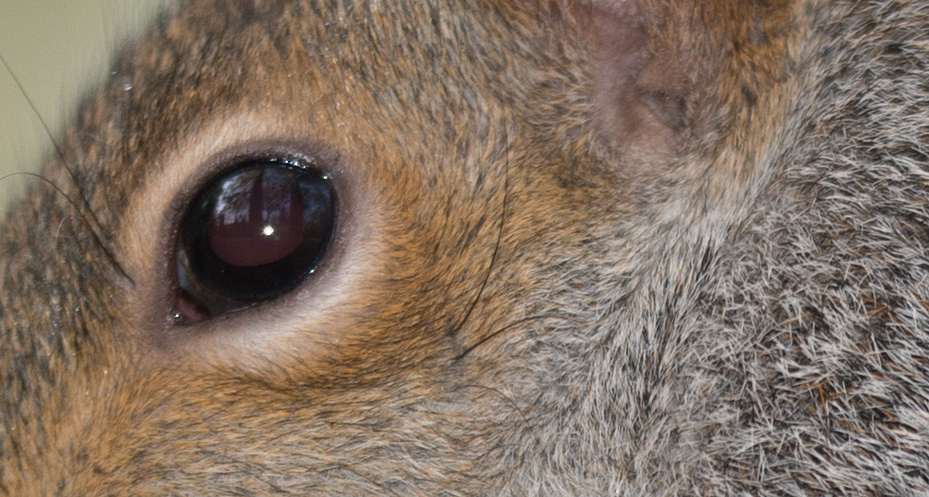 I have just tried the new Sigma 150mm f 2.8 Apo Macro OS, a lens with excellent reputation not only among macrophotographers, but also among portrait shooters.  However I tried it only as a macro lens, comparing it with the Micro-nikkor 105 f2.8 AfS VR as well as with its main competitor, the legendary Nikon 200mm f4 micro-nikkor AfD ED.  
Years ago I had used for some time the Sigma 150mm f2.8 Apo Macro EX (non OS), and I found it had excellent quality for general photography, apart for a little warm rendition in some occasions, but it was somewhat short  for my needs, thus I replaced it with the Sigma 180mm f3.5 Apo macro Ex at first, subsequently  with  Nikon 200mm f4 micro-nikkor AfD ED. 
Recently Mauro Maratta kindly offered me to try the new Sigma 150mm Apo Macro OS, to test its performance in macrophotography. As an enthusiast as I am, I accepted gladly, driven also by the curiosity to check if performances are on par with the reputation this lens has gained, and also if my attitude toward  shorter focal lengths in macro has changed.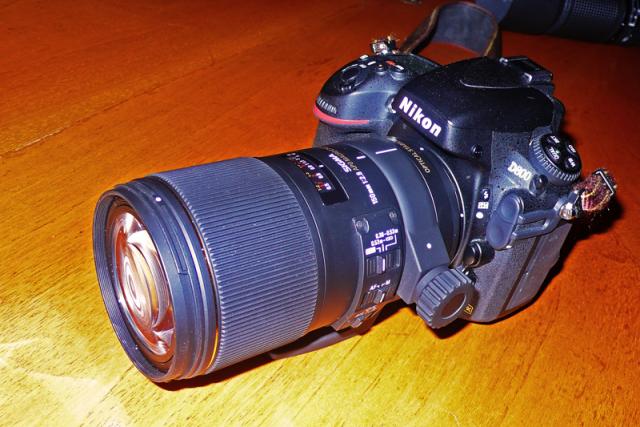 Specifications:
Lens and groups: 19 lens in 13 groups, 3 SLD elements
Diaphragm with  9 blades
Minimum focusing distance 38 cm (reproduction ratio 1:1)
Size (width x length) 80x150mm
Weight 1150g 
Filter size 72mm
Hood and tripod collar (rotatable and detachable) supplied.
Focus limiter and (obviously) image stabilizer.  
Costruction and ergonomy. 
I would say it's exciting at least. For the first time I found in a Sigma lens  a pleasant tactyle feeling no more crackling or sticking/"greasy" coatings) joined with a sense of  sturdness. The Sigma 180mm f3.5 Macro was also quite sturdy while the last black version of the Bigma  (50-500mm) had a good coating , but with the 150 Os we are at the top for Sigma (at the time of writing, now the Sigma 180mm Macro f2.8 OS is on par, or even better, as are the other high-end lenses of the Art/Sport series).
Another plus of the Sigma 150, as for the previous non OS model, is its compactness, perfectly suited for a mid-sized DSRL. In short, handling this lens is a pleasure.  
The Sigma 150 Apo macro OS  is only slightly larger and heavier than the  105VR, and like the latter one can be used free handed, but when tripod is needed, the 150 is much more practical than the 105 Vr thanks to the tripod collar. 
With respect to the Nikon 200 micro AfD, the Sigma 150 is shorter (but slightly wider), however both show excellent ergonomy.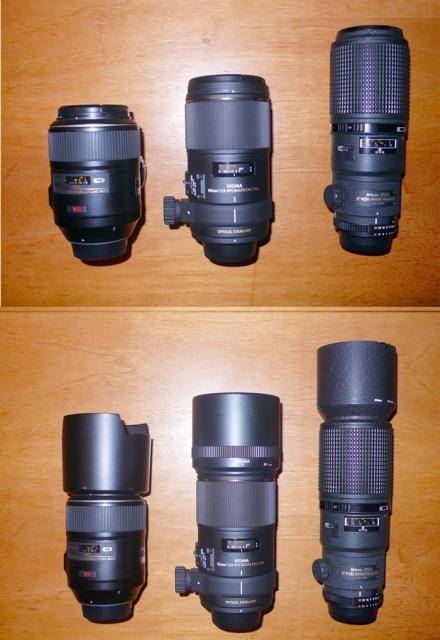 The three competitors, without (above) and with (below) the hood. Notice the little difference in size between the Sigma 150 and Nikon 105VR.
Autofocus.
For a macro, it  is suprisingly fast, I would say a little better than the Nikon 105VR and another world with respect to the  Nikon 200 micro AfD still retains the archaic mechanical-geared Af. Great performance (for a macro lens).  
Manual focusing. 
The focusing ring is adequate in size and well damped, perfectly usable, the only (little) flaw, as in many other "fast focusing" macro lenses, is that it takes only few mm of rotation to go from 3m to infinity, thus it becomes difficult focusing manually outside the macro area.
The possiblity of manual focus override without fiddling with switches is a great advantage over the Nikon 200m  micro AfD.  
Image stabilizer.
It works well. It may "jump" a little when started, but then all is steady. At higher  reproduction ratios the usefulness of stabilization decreases as usual.  
Test: Yes
0 user(s) are online (in the past 15 minutes)
0 utenti, 0 ospiti, 0 utenti anonimi
Article: Sigma 150mm f2.8 Apo Macro OS in-depth review.